Email

Phone

Address

Pioneer Bathrooms, 9 Dennis Lane, Stanmore, Middlesex, HA7 4JR

Live Chat
Finance Options
Whether looking for a complete bathroom makeover, or simply wanting to upgrade your tired bath with a nice shower enclosure, we have some simple interest free payment options to help spread the cost. The finance process is simple and makes your big purchases more manageable. One form to fill in and we do not even need to take a deposit.
Comprehensive Product Suite
Leveraging our established buyer relationships at

scale

Collaborating to bring

best-in-class

credit offering
Leader in

instant, mobile optimized

apply and buy experiences
World Class Risk Management
Advanced

risk management & credit decisioning capabilities to prevent fraud & underwrite more buyers
Leveraging

15+

years of online purchase financing experience
Trust & Reach
Tapping into the PayPal network of

24M

active UK users
Consumers bring

millions

s in open to buy only available on PayPal Credit
Bringing the fastest-growing mobile payment platform with

Millennials
PayPal Credit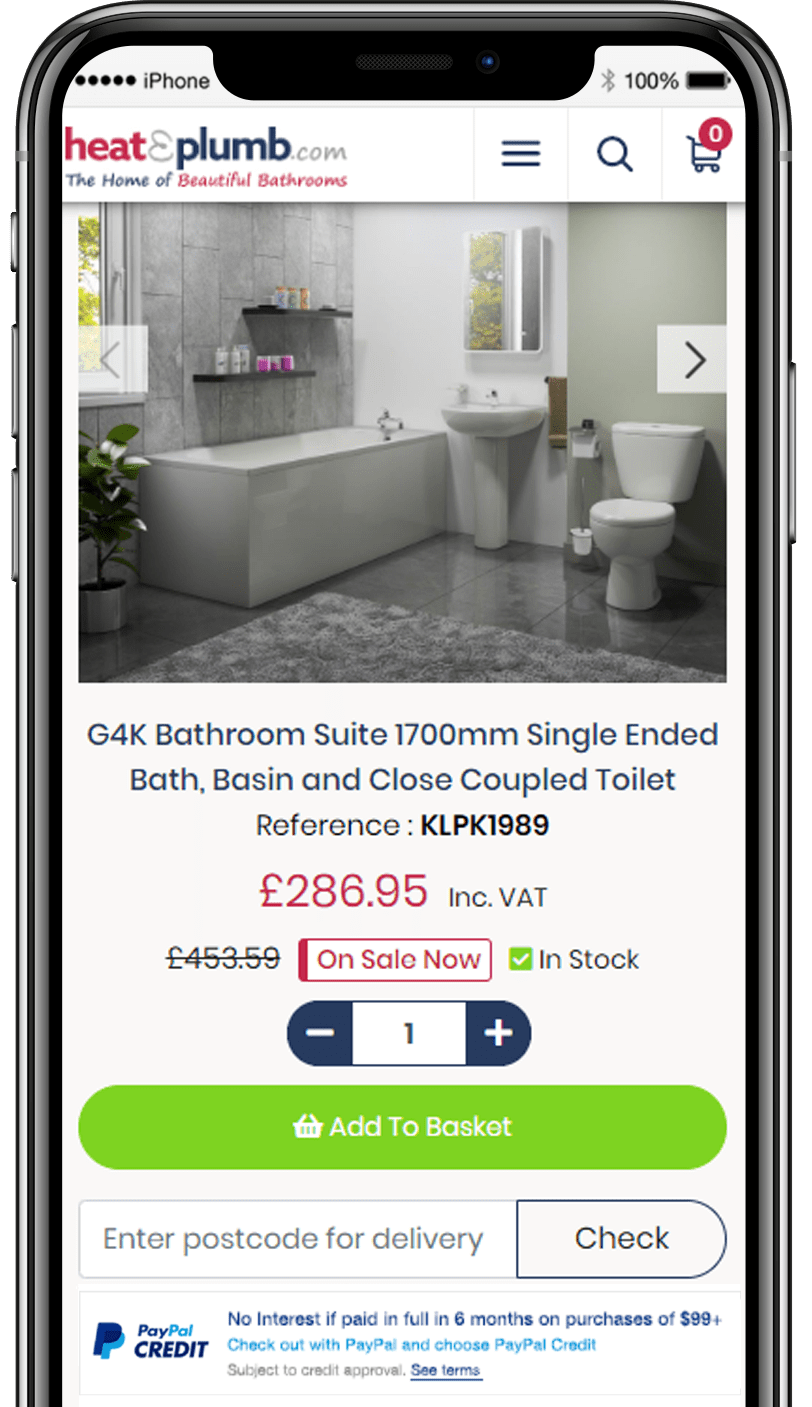 PayPal Credit is the most popular and frictionless financing solution providing a simple, trusted and flexible way to pay over time

Mobile optimized

'card-less' credit solution

Easy to Use:

Choose PayPal Credit when checking out with PayPal

Easy to Apply:

Only a few personal details

Merchant Benefits:

Drives higher AOV, higher sales and new buyers

Consumer Benefits:

Buy now, pay later + promotional financing
Enter the total amount you want to spend.
*
Finance available on all orders over £99. Prices given representative as part of larger order.
Will I qualify for finance?
To apply for our finance options the following criteria must be met:
Over 18 years of age
UK resident for a minimum of 3 years
Have a UK bank account
Have the goods delivered to the same address as the registered finance application
Be In full time employment or self employed (over 16 hours) unless retired or in receipt of disability allowance
How do I finance my purchase?
Add the items you want to add your basket and proceed to checkout.
In payment options select "Pay by PayPal Credit", you can then select the finance option which you require.
You will be asked to complete a simple online application, it's quick, easy and you'll get the decision within a matter of seconds. There is NO paperwork to be posted and NO physical signature required!
---
What differentiates PayPal Credit?
A simple path to higher sales - Understand how we compare and became a market leader

Frequently Asked Questions
Buying a Bathroom on Finance
Buying a new bathroom or replacing an old one can sting the pockets a little and that is why we are offering interest free credit options from Paypal. Designed to help you budget, Paypal Credit has a range of options to spread your payments over 4, 12, 18 or 24 months. (Subject to T&'C's)
Paypal Credit is a credit limit that is attached to your PayPal account which will allow you to make online purchases and spread the cost over a period of time that suits you.
You will need an active PayPal account and applying takes just a few minutes of your time. When clicking on the Paypal Credit option on our checkout page, you will be shown a selection of instalment options allowing you to spread the cost over a number of monthly payments.
You will then be directed to the PayPal website to complete a short form and PayPal will then run a quick credit check. If your application is approved you will be redirected back to our website to complete your purchase.
I cannot see PayPal Credit as a payment option?
For PayPal Credit to show as a payment option you will need to have a minimum of £99 worth of goods in your basket.
What if I am Unsuccessful when applying for PayPal Credit?
If your application if unsuccessful, Paypal will send you more information about why your application failed. You can however still use PayPal to complete the purchase securely with your debit or credit card.
What credit offers are available?
Please use our calculator above to see the available options.
Can I place a PayPal Credit order over the phone?
Paypal Credit is only available online and takes just a few minutes to apply.
Can I return the items I have purchased using PayPal Credit?
Yes you can return your purchase as normal (please see our Returns Page) and the money will be refunded back to your PayPal Credit Account once the return has been processed.
Any questions, who can I speak to?
If you are unsure about anything to do with the finance options, please fill in your details below and one of our team will reply with the answers.
Who is the finance provided by?
Our online retail finance partner is PayPal Credit Finance. Credit is provided subject to status
PayPal Credit FAQ