Anyone who has ever spent a few hours in the air will know that toilets on board an aircraft are never anything to write home about. First, you have to navigate your way through the odd folding door, then contend with the tiny space where the aircraft manufacturers have squeezed the loo, sink, bin, and sometimes even a baby change table into the smallest space possible. Even in business or first class, the loos don't get any bigger, although the toiletries provided might be slightly posher.
But things are gradually changing, with ever larger aircraft flying off around the world that give aerospace manufacturers a little more flexibility when it comes to the size of the bathroom. These days, in some of the newest aircraft, the bathrooms wouldn't look out of place in a five-star hotel. So join us on a journey to some of the poshest loos in the sky.
Emirates - leading the way in luxury loos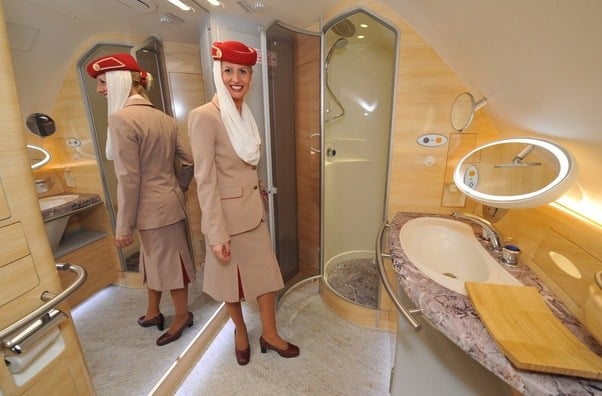 Emirates airline, based in Dubai, has more A380 aircraft than anyone else, operating thousands of flights a week from their hub in Dubai. Emirates have kitted out their A380 aircraft to cater to the needs of both business travellers and tourists and in economy, it's fair to say that the toilets aren't much different to those on any other aircraft. But in Business and First Class, it's certainly a different story.
The business class facilities are bigger and plusher, but in First Class the bathroom is exceptional. The airline offers two "shower spas" on the upper deck of the aircraft, and first class passengers are even allowed to reserve a slot for their shower during the flight. The shower is as big and as powerful as the shower in your bathroom at home, although you shouldn't expect a long session as the shower is fitted with a five-minute timer to ration the water so that there is enough for all passengers. In addition, the airline supplies all of the towels and toiletries you'll need and has a team of flight attendants to maintain the spa between customers.
All of this luxury doesn't come cheap though. You can expect to pay around £3,000 for a First Class flight from London to Dubai, compared with £450 for the same flight in economy.
Real sinks
Due to the space constraints on aircraft, it's common for the manufacturers to use tiny sinks or toilets in bathrooms, whatever class you happen to be flying in. One of the exceptions to the rule is Cathay Pacific, based out of Hong Kong, which has fitted full size, proper sinks in the First Class sections of their Boeing 747 aircraft. There isn't a shower like you'd get in Emirates, but a proper sink with decent water pressure enables you to freshen up, or have a proper wash or shave before landing.
You'll also be provided with full-sized bottles of upmarket toiletries and, unlike so many other aircraft bathrooms, there's a window so you can watch the world fly by as you wash your hands.
Playing with the super rich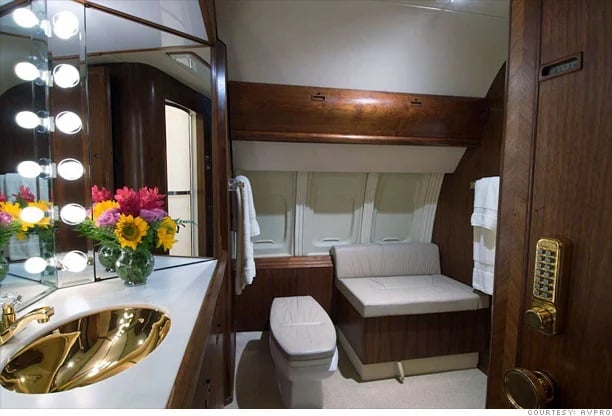 If money really is no object, 'slumming' it even in First Class with other fare paying passengers isn't an option either. The true super-wealthy have their own private planes with a crew to fly them off around the world whenever they choose.
American businessman and now US President Donald Trump has one of the most expensive private planes in the world, and it would be fair to say that the interior isn't exactly economy standard. His private plane is a converted Boeing 757, and is estimated to cost $100 million. Inside the plane, there are gold plated seatbelt buckles, a 52-inch television, two bedrooms and gold plated taps in the bathroom. A Saudi prince and oil billionaire has trumped Mr Trump with an A380 bought as a private plane, which has a garage for two cars, a stable and multiple bathrooms with showers and every other amenity you can think of. It probably won't be long before someone ups the ante even further.
Aeroplane style at home?
There aren't many of us who'd like to replicate the look of an economy class bathroom at home, but taking inspiration from some of the plusher business or first class bathrooms could help you squeeze more into a smaller space.
Look for space saving showers, smaller sinks and think about getting storage made to fit into awkward corners. But never compromise on quality; some of the world's best airlines are leading the way in showing how you can create an outstanding bathroom in even the tiniest spaces.