One of the first things most of us do when we're planning renovations in the bathroom is get on the phone to the skip hire company and start throwing things away. It's equally second nature these days to put bottles, tins and paper out for the recycling lorry to take it away. We're constantly being told that we have to reduce our impact on the planet and to try to create less waste but this is only slowly catching on in the building and renovating world. Here are a few ideas of things to do to upcycle your old bathroom suite, and the good news is that you might be able to avoid the cost of hiring a skip altogether.
Give it Away
Often, the reason we're replacing a bathroom suite is not because it is broken, but because it's just not to our taste anymore or because we fancy a change. One man's trash is another man's treasure, and there are probably hundreds of people out there doing up a bathroom on a budget who would jump at the chance to give your old bathroom suite a new home. Look online for websites such as Gumtree, Freegle and Freecycle, take a picture of the old suite and ask people to call around to pick it up. It won't cost you anything to place the advert, and it's the responsibility of the person collecting the items to organise and pay for transport. If you have a particularly old bathroom suite or a vintage enamel bath, it might be worth putting in a call to your local architectural salvage yard to see if they would be interested in buying it.
Bathtub Sofa
One of the most common and most fashionable ways of reusing an old bath is by turning it into a sofa. Baths turned into sofas are sold in the most upmarket interiors shops for thousands of pounds, but if you are thinking of doing something similar you can either take on the job yourself or ask a local joiner to help you out. Metal baths are better for converting than plastic ones as they have a nicer shape to them, but whatever the sort of bath you will have to cut an oblong shape out of one of the long sides, put on feet for support, smooth off any rough edges and make lots of comfy cushions to go around the new sofa. You could also give the old bath a coat of paint to fit in with your new colour scheme.
Get it Outside
Keen gardeners are always looking for interesting places to grow their plants and an old bathtub, sink or loo can be the ideal place. Again, offering them on some of the free ads websites might send some gardeners to your door, but you can consider using them in your own garden too. Prop your sink or bath on bricks or stones to allow water to drain out and stop the soil from becoming waterlogged, and then use them to plant flowers or vegetables. Baths are the right depth for growing root crops like potatoes, carrots or parsnips, and sinks or loos can be used for most other types of trailing plants and flowers. Sinks can also be turned into a water feature or fountain in the garden with the addition of a pump and the correct pipe kit available from the garden centre.
Use Parts if Not the Whole
Even if the idea of plonking an old loo in the garden doesn't appeal, that doesn't mean the whole thing has to go in the skip. There are lots of different uses for old toilet seats, especially the traditional two-part seats with a wooden seat and hinged lid. Some enterprising people have used these as "cat flap" type one-way entrances and exits into the house or a hen house, or have used them as a base to create some very unusual artwork. Just make sure you've given the whole thing a good clean first before you get to work with the glue and paint. If you have taps which are worth salvaging, remove them from the sink or bath before you get rid of it and then think about using the taps for handles or decorative features elsewhere in the house.
Examples of Sofa Baths and Bath Planters
Old farmhouse sinks have been used for years as planters in the garden but now baths and toilets are also on trend and can be transformed to look like it belongs in the garden.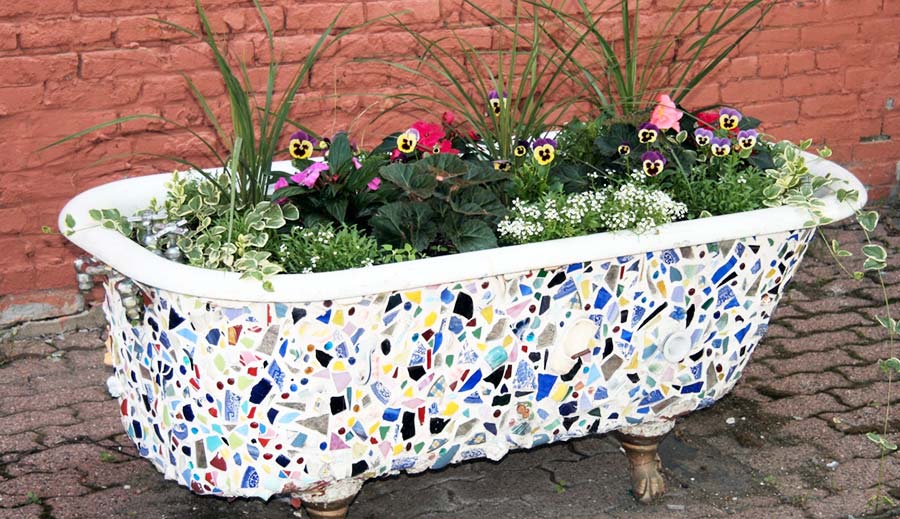 Image Credit:
Tesco Living
Constructed out of a vintage clawfoot bath, this garden seat with a twist has been lovingly created to be a centrepiece in the garden while enjoying the sunshine. Check out the video below to see how to cut the shape.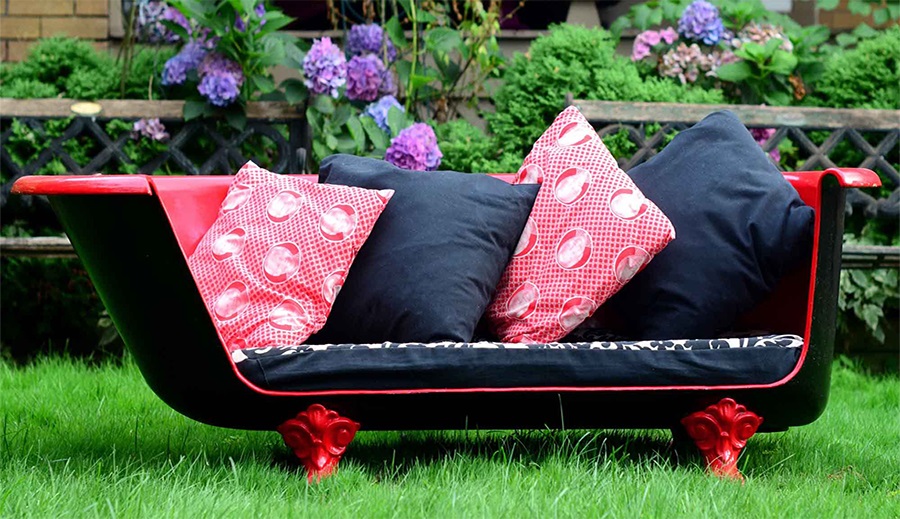 Image Credit:
Green Moxie