Think You Have Seen Expensive Taps? Think Again!
For the world's super-rich, indulgence and extravagance doesn't just mean shelling out millions on designer yachts and jewellery. When you're rich to the standards of a Russian oligarch or the dictator of a small country, you're going to want to show all of your friends and visitors that you have more money than you know what to do with. That means filling your home with the most lavish items you can find, right down to the bathroom and kitchen taps.
Diamond Encrusted Taps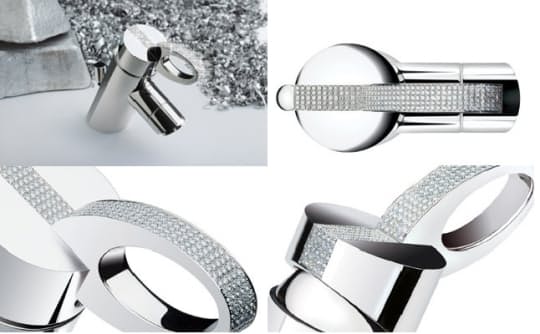 Image Credit:
Apartment Therapy
The super-rich aren't always known for their restrained sense of taste, and often tend towards the bling and gold rather than the plain and simple. Italian firm Teknobili are very much at the top end of the market when it comes to manufacturing taps for the rich and famous, and their top of the range Diamond Edition is not only made from solid gold, it's also encrusted with 282 natural diamonds. The company are cagey about just how much this bespoke tap will cost - but the chances are that if you have to ask the cost, you probably couldn't afford it anyway.
Crystal Taps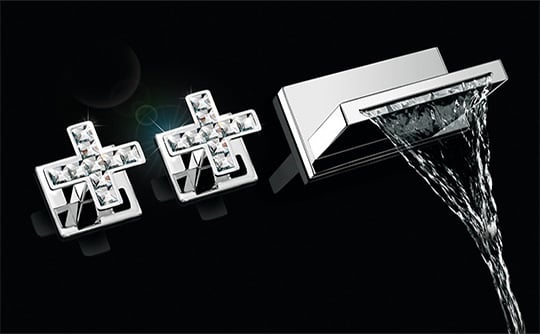 Another Italian company, Fir Italia, recently launched its "Glamour" range which the company says is designed to bring elegance and freshness to bathrooms across the world. The collection features modern and unusual designs of taps, many of which are encrusted with Swarovski crystals. You can even have them plated in gold if you don't think that the crystals alone add enough bling to your bathroom. These taps are made to order only, so as well as costing several thousand pounds, they can't just be picked up from the local DIY centre.
Motion Sensitive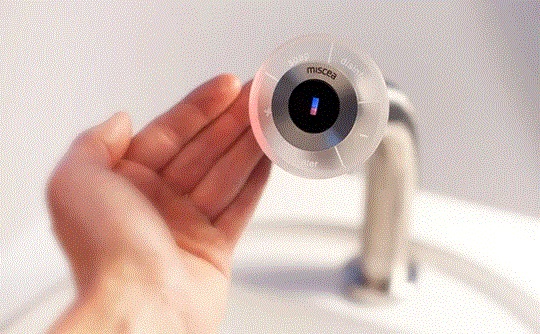 We're all accustomed to the technology used in taps in public washrooms where you can turn the water off and on by waving your hand in front of a sensor. The same technology has been used by German company Miscea on their range of taps, and although the company mostly market their products to professionals such as dentists or doctors, they will also sell into the domestic market. The taps do have a very industrial look, and are probably appropriate for the bathrooms of hygiene obsessives only.
Internet Connected Taps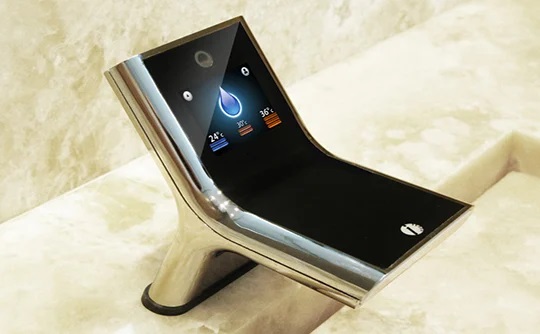 Everything is ruled by the internet these days, and now you can even control the temperature and flow from your bathroom taps using internet technology. An American company called iHouse markets a product called the SmartFaucet, which has a built-in LED screen operating on face recognition technology. You can programme the tap to operate at a certain flow and temperature, and the face recognition means that each member of the family can set their own individual preferences. All this convenience isn't cheap though, you can expect to pay around £35,000 per tap.
Articulating Kitchen Taps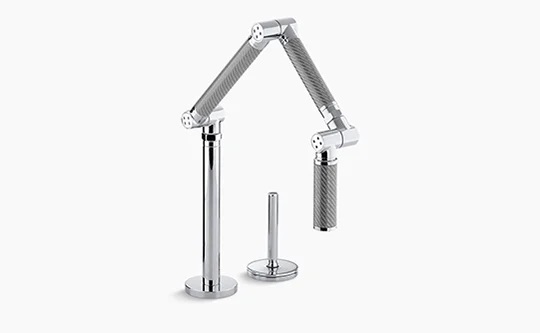 Kitchen taps which are on a long hose, or which can be angled to point in several different directions are nothing new and are found in most upmarket kitchens and in professional kitchens too. German tap manufacturer Kohler has gone one step further by making an articulating tap for kitchens out of super light and super strong carbon fibre. The taps look space age and industrial, and at a price of just over £1000, they are top of the range luxury at prices which aren't quite in the diamond encrusted league.
Touchscreen Taps
Who doesn't need a bit of cutting edge technology when they're in the bathroom in the morning? Another Italian company, Nomos, has designed a tap complete with a smartphone-esque touch screen, which allows you to choose the water pressure and the temperature. The technology inside the tap will also alert you to any leaks, or unexplained changes in water pressure. The only downside with this sort of technology is that it is changing all of the time; how long will it be before we are switching on the shower with our smartwatch while we're still lying in bed in the morning. Do you really want to be investing several thousands of pounds on something which could be obsolete in a few months? If you're one of those lucky enough to not have to worry about money, then replacing bathroom taps every few months probably isn't that big a deal.
Of course, there are lots of options out there no matter what style tap you are after or what budget. Our extensive range of taps for the home can be found here or if you are still stuck on ideas then view our tap buying guide.