Bathroom Vanity Units
Bathroom vanity units are great for those that need that extra space to store hygiene products, towels and whatever else you feel belongs in your bathroom. Not only do they give you extra space to keep your things hidden but they come in so many styles that they make your bathroom look great as well. Vanity units have been around for years and as the years go on the more styles and different types of vanity units. With time, technology gets better and so does the look of bathroom furniture. Vanities can look classic, country, modern, luxurious and techno. Now they even have vanities that can be wall mounted vanity units or floor mounted vanity units for a more elegant and upscale looking touch. Whatever the choice of vanity be sure to choose the one that makes you feel great about your bathroom every time you step in.
3

668

708

413

322

187

68

49

39

32

32

1

3

28

17

1

4

9

3

5

20
103

121

71

404

230

637

58

34

93

419

47

7

24

80

35

187

18

24

20
118

97

67

371

77

580

54

21

8

322

7

45

26

304
21

7

10

28

140

20

121

6

23

4

6

3

6

6

129

8

380

388

2

15

12

3

414

129

5

19

2

10

32

31

5

5

69

3

131

47

26

1

64

2

5

10

18

10

202

14
851

639

170

61

40

134

79

28

62

135

77

26

21

124

23

34

11

65

32
Choosing the Perfect Bathroom Vanity Unit
Vanity units in the bathroom are nothing new, although their design might have changed a bit over the years. As our houses get smaller and space in bathrooms more restricted, the vanity unit is firmly back in fashion as it works as an attractive piece of bathroom furniture as well as providing much needed storage for your towels, toothbrushes and bottles of bubble bath. If you're thinking about upgrading your bathroom to incorporate some additional storage, here's what you need to know before heading to the shops.
Factors to consider
Size - bathroom vanity units are generally a standard height, but how wide should the unit be? Measure your available space and work out which size is best for your needs.
Style - contemporary, traditional, white, wooden, wall mounted, floor standing - there is lots of choice out there.
Coordination - do you want a unit which is part of a larger range of coordinating items?
Budget - always a consideration, and we stock vanity units across all price points.
Function - do you want drawers, cupboards, and what are you thinking about storing inside?
Floor Standing Vanity Units
Maximise the storage space available in your bathroom with a floor standing vanity unit, a perfect choice for all styles and sizes of bathroom. There are plenty of benefits when you opt for a floor standing unit, beginning with a choice of design that can complement your existing bathroom design or the fresh new design you have planned in your head. Secondly, it brings some much-needed storage space into your bathroom, which is especially crucial in small bathrooms. We offer a choice of drawers or cupboards into which to start your toiletries and towels - or a combination of both!
From a style perspective, you don't just have to opt for plain old white too. We supply a wide range of colours and eye-catching finishes such as wood vanity units. Whichever you choose, it's a great way to add a contemporary twist combined with extra storage space.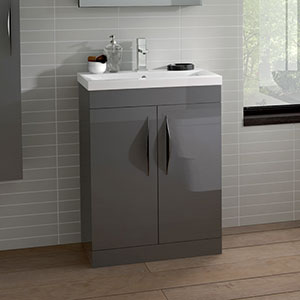 Wall Mounted Vanity Units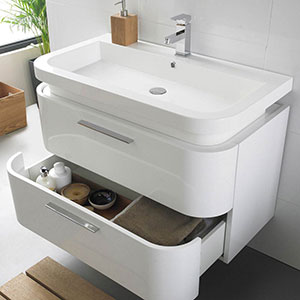 Interior designers are well aware of ways to make your room appear bigger than it actually is, and this is something most of us could benefit from as the average bathroom tends to be quite small. Luckily, one trick involves the installation of a wall mounted vanity unit. Because it's attached to your wall, you're afforded some extra floor space that gives you just that little bit of extra breathing room.
Wall mounted vanity units are ideal for small bathrooms such as cloakroom bathrooms or a downstairs loo. You'll further save space through the included storage space, while the contemporary look and feel of our stock of units will give your bathroom a fresh, modern look. Finally, their durability and sturdiness can't be beaten.
Traditional Vanity Units
Sometimes are tastes can't be matched with the sleek contemporary models on the market today. But, don't worry, as traditional tastes are never left behind here at Heat and Plumb. If you're lucky enough to live in a period property or just want a little slice of Edwardian or Victorian interior design in your bathroom, we supply a wide range of traditional vanity units that are sure to set your bathroom firmly apart from the rest.
Traditional units are all about the little details, and you'll really appreciate the level of detail and craftsmanship that have gone into creating these exquisite designs. You'll love the look and feel of the carefully crafted handles, while panelled designs give a timeless, elegant look.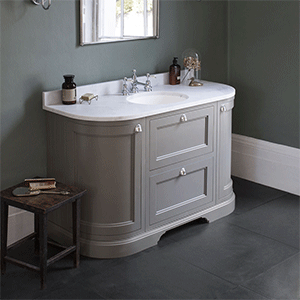 Cloakroom Vanity Units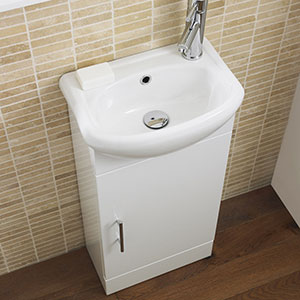 When it comes to cloakroom bathrooms, they're usually a second room with a toilet that sits apart from your main bathroom (such as a downstairs toilet). As they're so small, you can't really fit much more than a toilet in there, but you still need somewhere to wash your hands. That's where our range of cloakroom vanity units come in, giving you the means to install a simple basin and even a little storage space for amenities such as spare toilet rolls.
Available in a large range of styles and finishes, our cloakroom vanity units can either be floor standing or wall mounted, the latter of which provides that simple illusion of more room.
Other Things to Think About
Buying your new vanity unit is just part of the job of designing a new bathroom. If you're looking for sinks and toilets which are all part of the same range, check out vanity units which come as part of a pack - these offer better value too. Work out where best in the bathroom to position the items, bearing in mind plumbing restrictions, and finally, who best to install your stunning new bathroom furniture.
---