Bristan
Bristan have grown to be the UK's largest supplier of taps, showers, enclosures, and decorative heating, to the domestic market. Owned by Masco, one of the world leaders in the home improvement market, it is no wonder why Bristan boasts such a large range of leading bathroom products.
As an approved platinum partner and official seller of Bristan products, this means we can offer you the very best that the brand has to offer and all at trade prices.
Bristan also have an extensive range of commercial products that are respected and trusted by many installers throughout the country. Bristan's massive offering contains more than 600 different taps and showers - meaning there is something for everyone, no matter what the budget is!
Displaying
0
Of
0
Products
Who is Bristan?
It's very likely you've heard of British bathroom manufacturer Bristan. After all, you don't get to claim to be the UK's number one brand for bathroom taps and showers since 1977 without getting national recognition. In turn, Bristan are owned by Masco, a world leader in the home improvement market. With that kind of heritage behind it, it's no wonder that you'll most likely be spotting a Bristan product wherever you go in the UK.
But the popularity label also brings along an expectation for quality. Thankfully, Bristan more than delivers in that department, boasting a massive range of bathroom products that have high-quality ingrained into them, such as smooth curves or sleek straight lines.

Bristan is a brand that you can trust and, as the prices start so low, there's something affordable for everyone.
Why Choose Bristan?
Whether you're looking for a modern bathroom tap, traditional kitchen tap or a shower, the extensive range that Bristan offers will have something to meet your requirements.

The Bristan label always means that it's been designed, manufactured and tested rigorously to ensure that your bathroom only has the best.

Even if it's not your personal bathroom, a range of commercial products are designed to go the distance and serve thousands of people without breaking a sweat. With popular ranges that include Java, Quadrato and Artisan, there's a design to suit you. We'll go into more detail about these ranges further down the page.
The Bristan Selection
Bristan Bathroom Taps
Bristan knows the bathroom inside and out. They've been working on perfecting the bathroom tap since their establishment in 1977, and while perfection is a tough nut to crack, the company can definitely say it comes close. Bristan isn't just interested in contemporary tastes in design; they're quite taken with the elegant designs of old too. The traditional range combines quality materials with efficient operation and designs that will add a touch of class to your bathroom. But Bristan's modern collection is eye-catching too, with bold, unique designs that bring your bathroom bang up to date.
Our range of bathroom taps includes deck mounted and wall mounted designs to give you the flexibility of placement. Some taps even include flow limiters to help you save water in the long run, while low-pressure taps are available too. We'll highlight all the technical details on the product page so you know exactly what you'll be buying.
Bristan Kitchen Taps
Of course, the bathroom isn't the only place in your home that needs a decent quality tap, and maybe the kitchen is even more important when it comes to installing a tap that's going to last a lifetime. Bristan saw the opportunity and brought the expertise they polished in the bathroom to the kitchen. As a result, we stock a range of kitchen taps that come in either modern or traditional styles. Whatever your taste is – take your pick and equip your kitchen with the very best that Bristan has to offer.
Innovative engineering and eye-catching design combine to create kitchen taps that will always be a joy to use. From long spouted contemporary design taps to elegant traditional taps that have pull-out sprays to aid with the washing up, browse our range to find your perfect match.
Bristan Showers
Bristan aren't just well-recognised artisans of taps, they also produce a wide range of showers. Hundreds of thousands of people wake up every day to a Bristan shower or wind down at night under streams of water that are delivered by the very latest in showering technology. Like their taps, Bristan showers come in a range of traditional and contemporary style models. It's going to be pride of place on your bathroom wall, so you may as well choose one you're going to enjoy looking at.
On the technology side, we've got a selection of mixer showers right the way through to your popular electric shower models. But if it's a blast of power you're after, then a power shower is sure to knock those sleepy eyes awake in the mornings! Finally, a large selection of shower heads and handsets lets you customise to your heart's content.
Bristan Commercial Range
If you're looking to buy commercially, Bristan has the solution for you. We're proud to offer a huge range of commercial products that will cost your company less both from the get-go and for the length of their long lives. Bristan is one of these high-quality suppliers, bringing their knowledge of quality to the commercial market too.
In the Bristan commercial range, you'll find everything from commercial showers and taps, to mixing valves, shower panels and shower accessories – everything you need to create a bathroom that will be used by thousands. We even supply a range of Doc-M packs to ensure a comfortable and safe environment for the less able-bodied.
Range Highlights
With so many choices in the Bristan Collection we will now take a look at some of the most popular Bristan ranges that Heat and Plumb supplies and tell you a little bit more about them.
Bristan Java
The Bristan Java range of bathroom taps encompasses basin mixers, bath taps and bath shower mixers, all of which are fashioned in a uniquely styled compact design that's perfect for just about any bathroom, but is ideally suited for smaller bathrooms too.

Each tap is made from solid brass for a long and tough life. They also include ceramic disc technology, which says goodbye to the old-fashioned rubber washer and won't wear out. Depending on what you're more comfortable with using, you can also choose from clicker wastes or a pop-up waste.

Whichever type you choose, the quality remains the same. It's easy to see why the Java range are such a popular style in the Bristan collection and you can rest assured that these taps that will be running smoothly for years to come.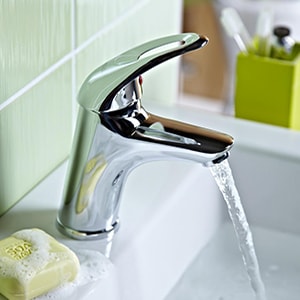 Bristan 1901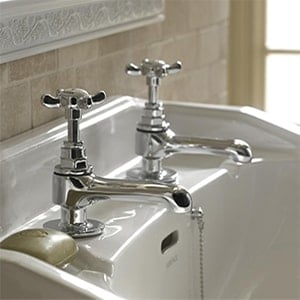 The Bristan 1901 range is Bristan's nod to the elegant designs of yesteryear. You can say what you want about society back then, but they definitely knew a thing or two about what it takes to produce designs that can always be enjoyed, whatever the year may be. This range includes bathroom taps, kitchen taps and shower valves. It also differs from other ranges in that there is a choice between a chrome finish and a gold finish, which is something you don't tend to see a lot in an era where the world has become saturated in chrome fittings.

While the design may appear traditional, the ceramic disc technology built within very much marks these out as modern taps too. It just goes to show that you can have all the elegance of old design with the efficiency of today's technology.
You can match the range of 1901 taps and shower valves with a selection of bathroom accessories. This includes brass towel rings, toilet roll holders, soap dishes and more.
Bristan Quadrato
Bristan Quadrato is the ultimate in ultra-contemporary design. It's blocky but sleek design with a shiny chrome finish will please anyone that wants a bathroom that conforms to modern trends of clean lines and minimalism.

The taps range includes basin mixers, bath taps, bidet mixers and bath shower mixers. You can save water too with an eco-click feature that reduces water flow, although this can be overridden should you require an increased flow.
The sleek contemporary design extends to Quadrato showers too, which all include thermostatic technology that protects the user in case of a sudden change in the water flow. Of course, each shower is a style statement too, and when combined with Quadrato bathroom taps you'll be getting a bathroom that will wow everyone.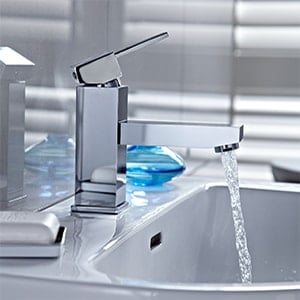 Bristan Artisan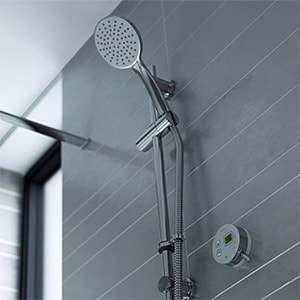 The Bristan Artisan range includes a range of artistically styled taps and showers that will add something a little different to your bathroom or kitchen.

This range also benefits from the latest in technological improvements, such as thermostatic technology included on the bath filler taps to ensure that water always reaches you at a safe temperature.
Aside from taps, we also supply a range of Bristan Evo Digital Showers. These sit on the cutting edge of the technological sphere, with digital temperature controls and displays that give you all the info you need in simple, easy-to-understand readouts. A choice between flow settings also let you tailor the showering experience to exactly how you want it.