Carron Baths
With over 200 years of history to its name, Carron Baths has become a well-respected company that has always prided itself on providing homes with some of the best baths on the market. Each bath bears the hallmark of their manufacturing excellence and it's clear that a lot of thought has gone into the design of each and every one. This is a company that won't rest on its laurels, continuing to innovate in its space so that it's always one step ahead of its competitors. We're proud to bring you an extensive range of strong Carron baths, with each and every one manufactured right here in Britain.
Displaying
0
Of
0
Products
Who are Carron Bathrooms?
With a history dating back to 1759, Carron is one of the UK's longest established names in the bathroom sector. Still going strong into the 21st century, Carron produces a quality range of products, with the same attention to detail as when the company first began producing baths. Carron's extensive range of baths allows you to choose a stunning design-led centrepiece for your brand new bathroom, or select a classically designed, quality bath which will last for years in the family bathroom. Carron baths are finished in a patented finish called Carronite, which guarantees durability and a long-lasting "like new" finish for your bath.
The Carron Range
The Carron range is extensive, so whether you are looking for a standard rectangular bath as a replacement for an existing bath, a sleek and modern Carron freestanding bath, a corner bath for those awkward spaces or a Carron shower bath which allows you to both shower and bathe in comfort, Carron has the perfect product for you. The Carron range has a premium appearance, and the company's emphasis on design embraces both contemporary design and traditional style. Some of our most popular Carron models are the Quantum, Delta, Status and Profile ranges, so browse through out extensive Carron range and we're sure you'll find the perfect Carron bath for you.
Quality and Warranty as Standard
Technological advances are at the heart of everything Carron does, and the company has developed Carronite, a system of triple layered enforcement which makes the finished baths stronger and heavier, and which gives both a quality appearance and a durability which you just don't get with the standard acrylic bath. This additional investment in Carronite means your bath retains heat better and has a solid, rigid feel. Carron baths come with a lengthy 30 year guarantee as standard for total peace of mind.
Carron Quantum Range
Quantum is one of Carron's most well-known ranges of baths, and the rectangular shape of most of the Quantum range makes it the perfect choice for either a modern or traditional bathroom design. Choose from a wide range of sizes and dimensions for the perfect fit in your bathroom at home, and if you have a smaller than average bathroom, the space saving Quantum baths will be of particular interest.

Quantum is Carron's most versatile range of baths, with single ended and twin ended baths all offering the best in modern bathroom design. All the Quantum range is made from patented Carronite, which not only makes the baths more rigid and sturdy, it gives them heat retaining properties too.
Carron Delta Range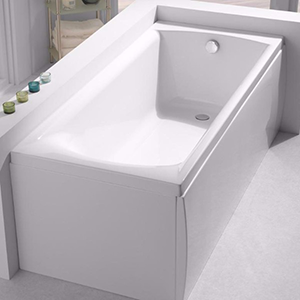 The Carron Delta range of baths is all about curves and rounded corners, giving a modern twist on the traditional rectangular bath design. Choose Delta if you are looking for that rare range which combines luxury with comfort, at great value for money prices.

All Carron baths are made from the patented material called Carronite, which gives increased levels of heat retention and a sturdier built quality. If you are thinking of adding a shower over your bath, opt for one of the P-shaped baths in the Delta range to give you additional space and comfort.
Carron Status Range
Status is Carron's most design-led range of baths, with beautiful oval shapes and minimalistic features which would grace any modern home. Choose from a wide range of different sizes and configurations of elegant and sleek baths, all made from durable and sturdy Carronite.

Available with both left handed and right handed options, Status baths are suitable for any type of bathroom layout, and can also be combined with over bath showers and shower screens for more flexible bathing options.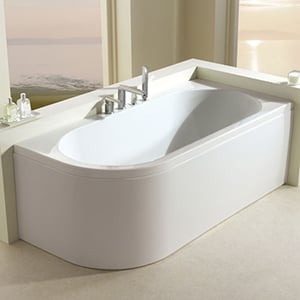 Carron Profile Range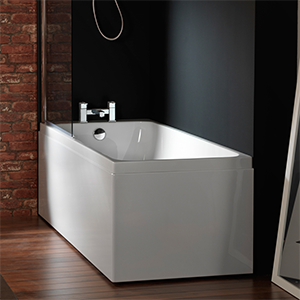 A range which is as popular with hotels and other commercial establishments as it is with homeowners, the Profile range from Carron combines classic design and superior quality. Carron Profile baths are made without outstanding levels of attention to detail and are made with the Carronite material which delivers superior performance and reliability.

Both double and single ended baths are available in the Profile range, as are baths designed to accommodate over the bath showers.