Must-Have Bathroom Cleaning Products
Keeping your bathroom sparkling and clean may not be the most fun or exciting task but with Instagrammer Mrs Hinch documenting her home cleaning and recommending her favourite cleaning products, many people are seeing the housework very differently these days. Many are following in her footsteps and spreading the cleaning trends. Bathroom cleaning products can be a minefield of options so here are some of the must-have bathroom cleaning products to get you started!
Flash Bathroom Cleaner
Flash Bathroom Image Credit:Easho
From one of, if not THE, biggest cleaning brands in the UK and worldwide, you can guarantee most households own at least one Flash cleaner already. Their must-have bathroom cleaning product is suitable for so many surfaces and purposes in the bathroom - if you prefer to use only one product, this is the one for you. From shower screens to tiles, toilets to taps, this will clean the lot! Mrs Hinch swears by it's clean and fresh scent which comes 'Recommended by Febreze'. However, you should always ensure that your bathroom is well ventilated. As lovely as it may smell, they are still chemicals! Similarly, if you intend to use this alongside other chemicals, you must make sure they do not mix. Keep each cleaning task and product separate.
It is available in a handy spray bottle or a thicker pouring liquid (ideal for cleaning baths) and for extra dirty bathrooms, try Flash with bleach (not recommended for areas near silicone sealant as bleach can corrode it).
Sonic Scrubber
Another must-have bathroom cleaning product is a Sonic Scrubber. These gadgets look a bit like giant electric toothbrushes. Their powerful oscillation and sturdy brush heads make light work of tough dirt and they're still small enough to get into all of those hard to reach places like the tracks of a sliding shower door, inside a waterfall tap or even the nozzles on your shower head. They come with a range of different attachments varying in shape and bristle texture and can be used all around the house with your chosen cleaning product.
Window Vac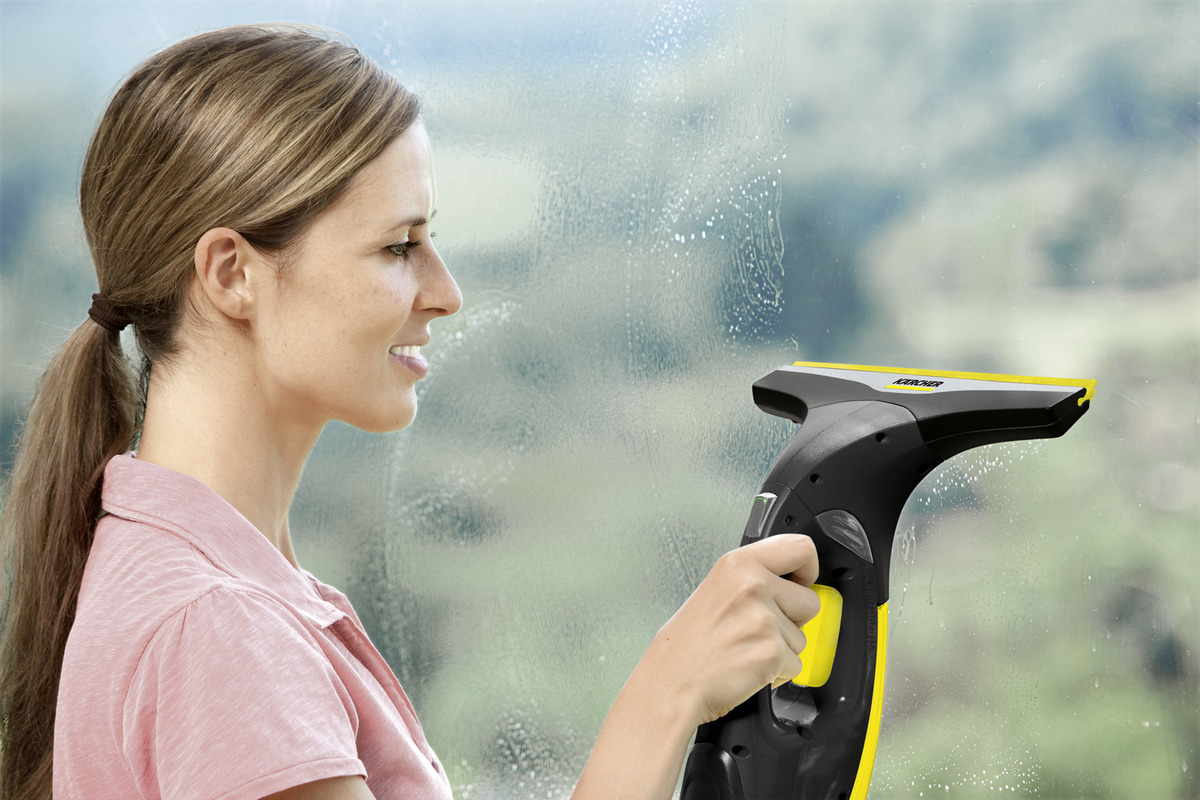 Window Vac. Credit:Kaercher
You may have seen these around and assumed they were only for windows - you'd be wrong! These neat little gadgets suck up any remaining water or suds left on any flat solid surface, so it is ideal for getting that streak-free finish on your shower screen. Just wipe down the screen as usual, with your favourite bathroom detergent (or alternatively, dish soap and water works just as well for this job!) then sweep them away with the window vac for dry, sparkling glass. They are available from many different companies including Kaercher and Vileda.
Harpic tablets
Harpic Power Plus. Image Credit:Harpic
These little tablets really pack a punch. Aside from the regular cleaning of your toilet, these can be used every so often to give the toilet bowl, pan and u-bend a really thorough clean. Simply pop one into the bowl and it'll fizz. Leave for 20 minutes (with the lid up) and any dirt, limescale and bacteria will be removed, then just flush it away.
IMPORTANT: As with any cleaning products, these will react with other chemicals. Do not use alongside bleach or toilet cleaners - use one product at a time.
Viakal
Another product that I wouldn't use every day but that is brilliant for shining up anything stainless steel or made to shine in your bathroom. It is quite strong and therefore comes with a pungent smell (be sure to open your windows to allow good ventilation) but works wonders. Just spray sparingly on the appropriate areas and leave for a few minutes before scrubbing and rinsing away.
Top tip: to maximise the shine, dry and buff with a microfibre cloth.
Ecover biodegradable wipes. Image credit:Ecover
Ecover wipes
Despite the success of so many cleaning accounts on Instagram, including Mrs Hinch. One recurring criticism is that many fail to think about the environmental impact of their must-have cleaning products. Many recommend a variety of different wipes for all different purposes,. This means that lots of non-biodegradable wipes, often containing strong chemicals and plastic components are piling up in landfill sites, and even more dangerously, in the water systems or causing blockages in sewers when not disposed of responsibly. Most wipes can be substituted with reusable cloths e.g. instead of using floor wipes, use floor cleaning solution and a microfibre cloth which can be continuously washed and reused - the effect is mostly the same.
However, when it comes to cleaning the toilet, many people prefer a disposable solution as it is more hygienic. I use Ecover wipes for this purpose (although they are multi-purpose and can be used all around the house). The best feature of these is that they are biodegradable! Not only that but they use plant-based formulas which are better for the environment and smell amazing! Although no wipes should ever be flushed, these can be put in the bin and will eventually disintegrate in landfill.
Scrub buddies
Mrs Hinch has made the Minky cloth a household name - however, finding one is harder than you'd think. There are many alternative (and in my opinion, much better) versions of this idea. These cloths tend to include a sponge middle - Scrub Buddies, available in shops such as B&M tend to have larger sponges than the Minky version - surrounded by a coarse scrubbing side and a microfibre cloth side. This allows you to evenly distribute the product or suds, use the scrubbing side to get rid of tough dirt and then the softer side to rinse and wipe away the residue. I find these ideal for job like cleaning shower trays and baths as well as hobs and kitchen sinks.
Toilet brush
Toilet Brush with Rim Brush. Image credit:Amazon